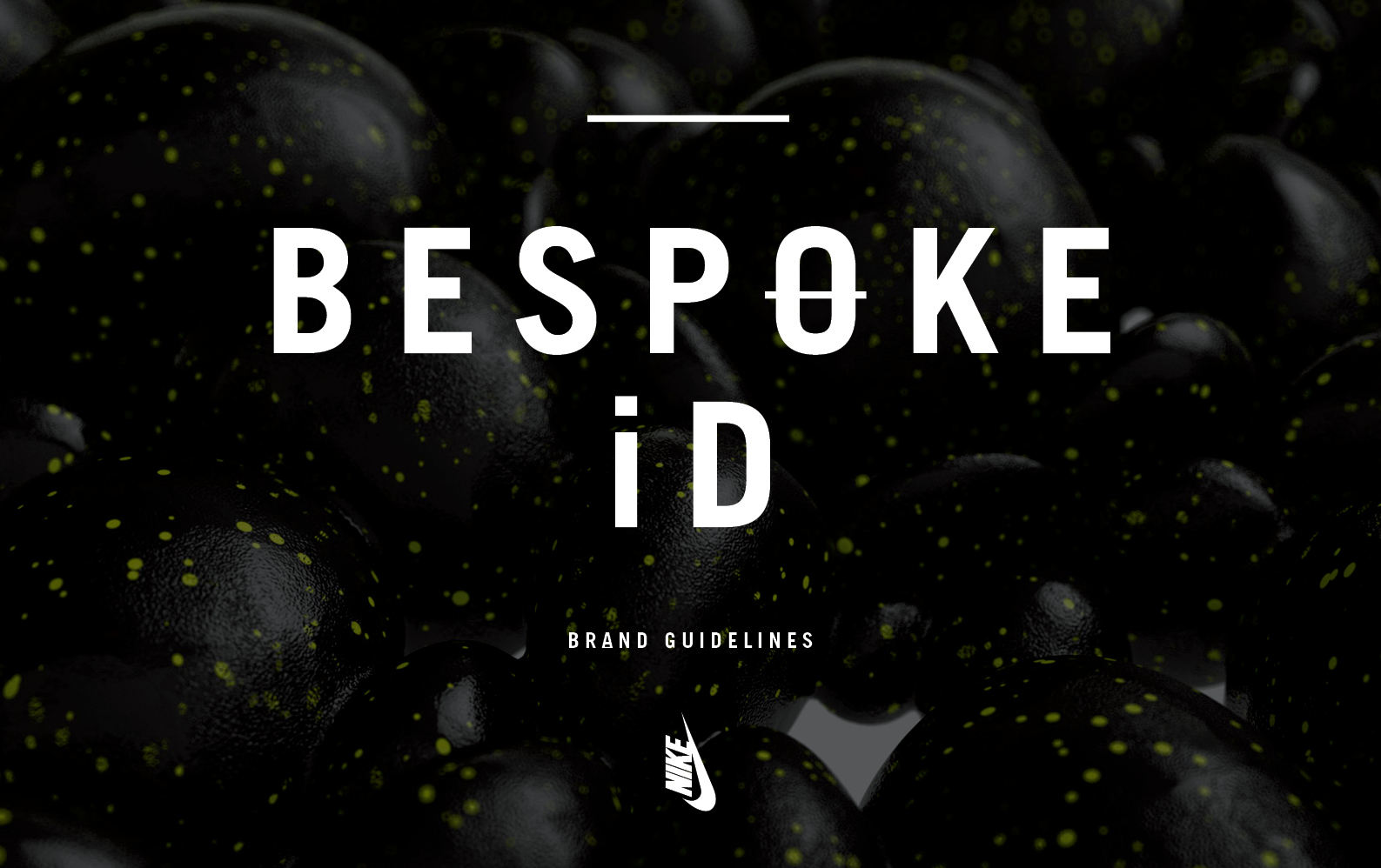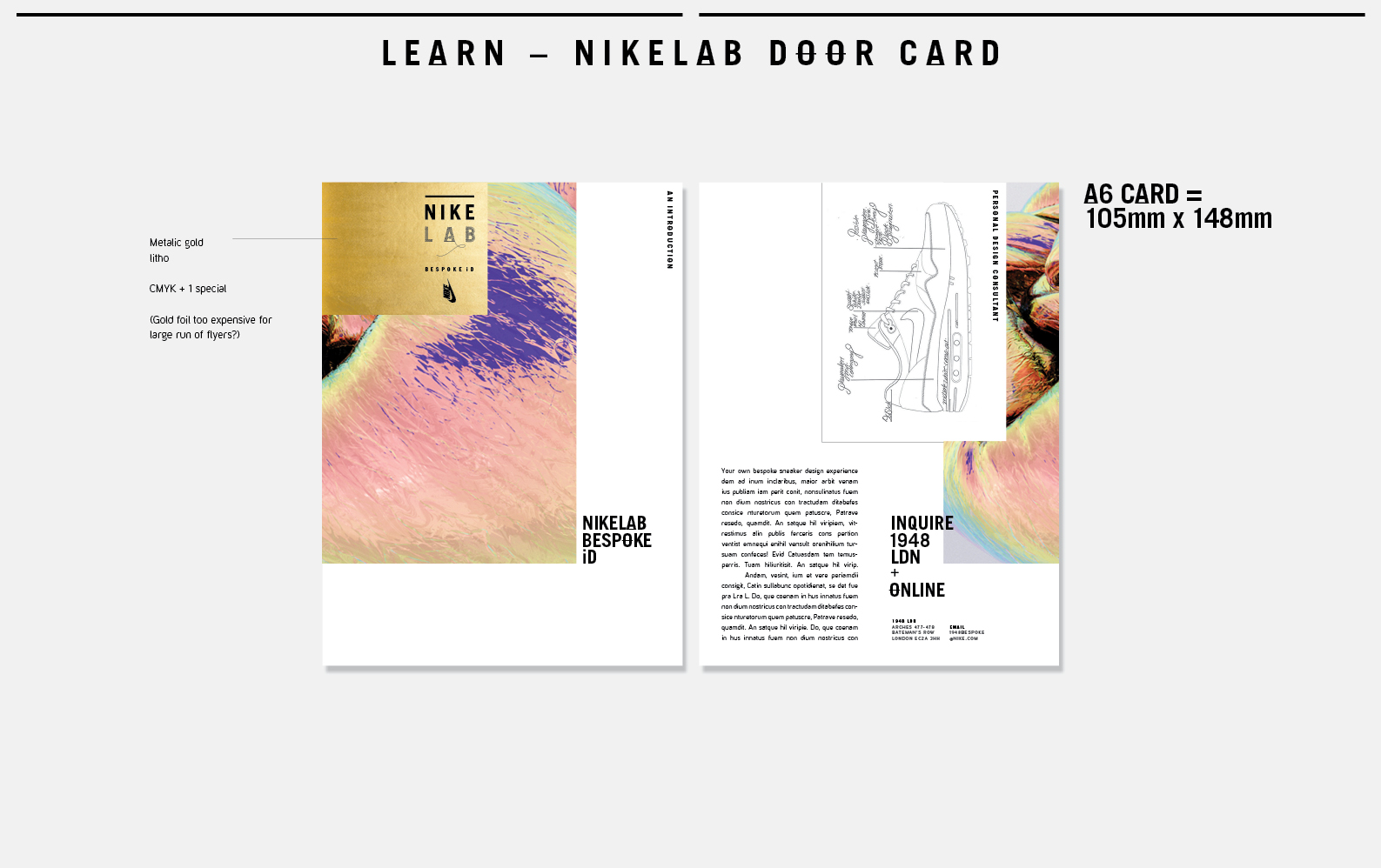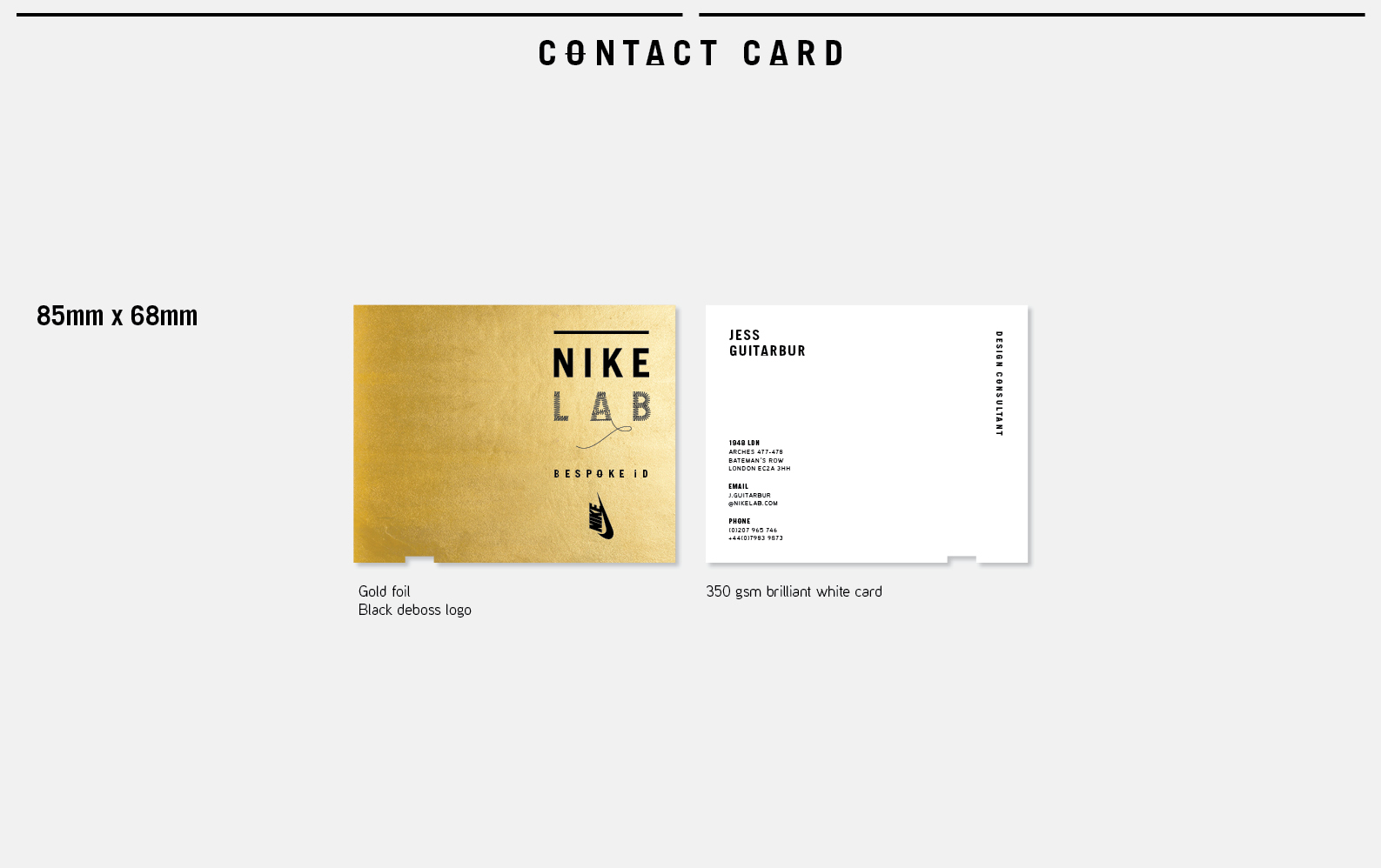 Nike Bespoke iD
Brand & Guidelines
—

Art Direction: Nike / Andy Walker
& Ryan Belmont
Design: Simon Arnoldi
3D Renders: Moreandmore

Nike Lab wanted to launch a high-end bespoke shoe design service for clients that wanted to create their own Nike trainer from scratch. We created an in-house brand and brand guidelines, for use across stores globally. Using crafted gold foiling, white space and black type to convey the simplicity of sport, combined with beautiful abstract 3D interpretations of Nike's material innovations.
Genealogy of Nike Free
Design Direction
—

Art Direction: Nike / Ryan Belmont
Design Direction: Simon Arnoldi
Logo: Simon Arnoldi
Interactive Zeotrope: Sehsucht
View website
Genealogy of Nike Free was launched in celebration of the lineage of the Nike Free running shoe, with all of the historic archived shoe's to be re-released.

A spinning interactive zeotrope and music sequencer was designed and built using rows of each shoe. We then created a kinetic logo based on the shoe's patterned sole, and a bold, simple design stlye to use across the interactive zeotrope. This was then used globally, across shoe boxes and store graphics.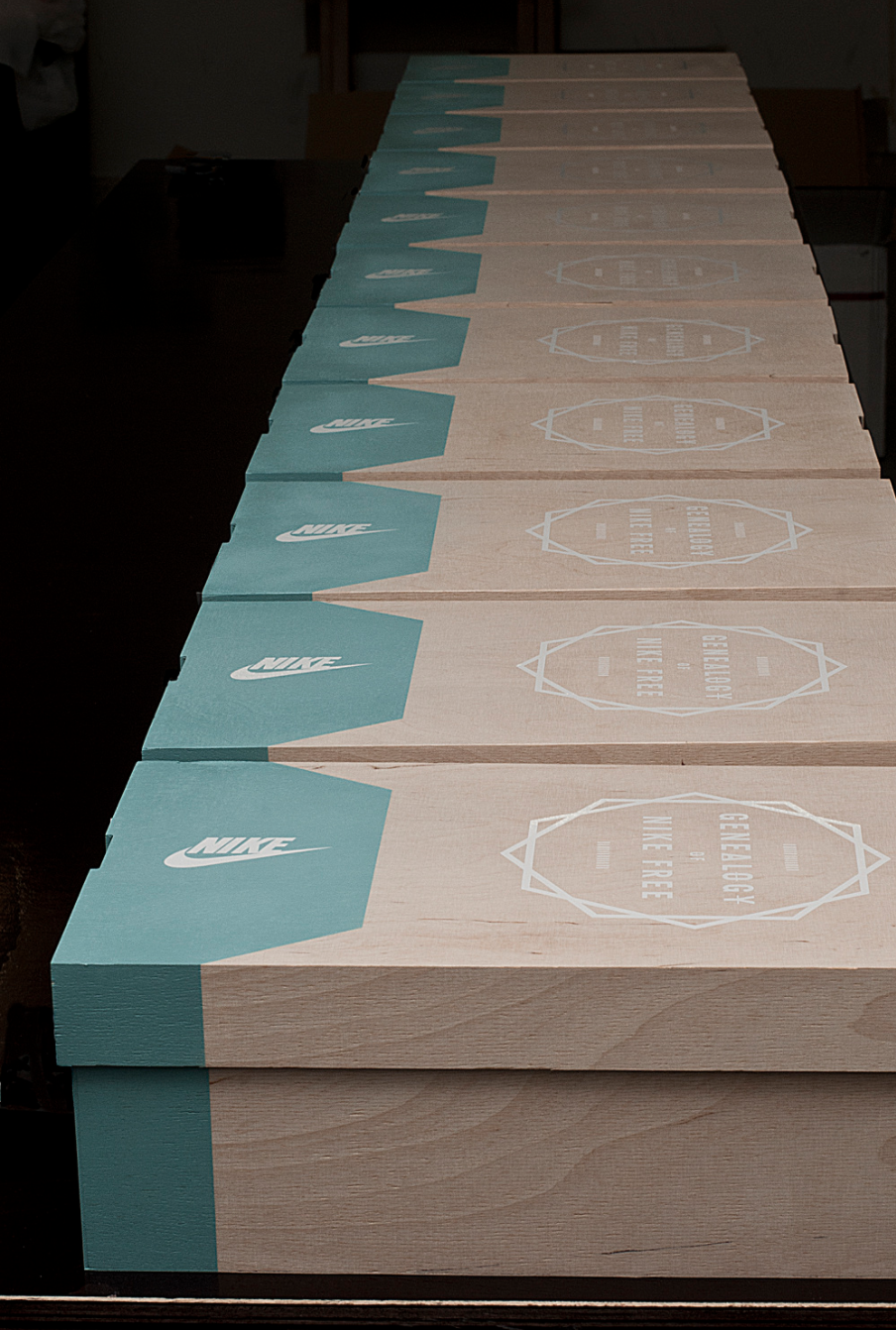 Genealogy of Nike Free was launched in celebration of the lineage of the Nike Free running shoe.

The identity was used across the

interactive zeotrope

online and then reproduced across shoe boxes and instore displays.

Nike 'Year of the Windrunner'
Logotype
—

Art Direction: Nike / Andy Walker
Logotype: Simon Arnoldi
Film & animation: Intro

For a series of films promoting the anniversary of the Nike Windrunner jacket, a logo was created playing off the ever-present iconic 'V' design that runs across the chest of each top.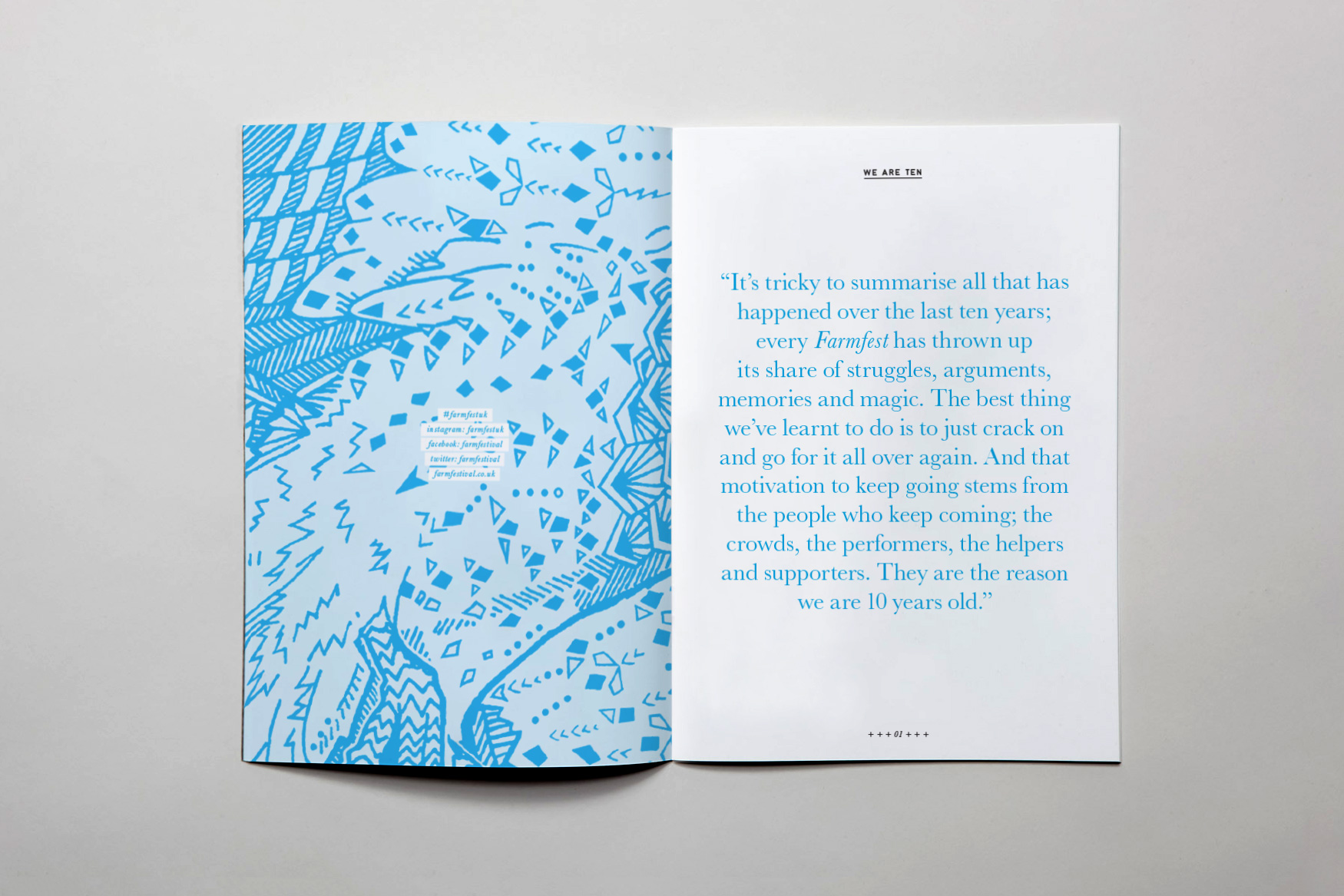 Farmfest 2016
Identity & Design
—

Art direction & Design: Simon Arnoldi
Illustration: Rachel Antonio

Farmfest is a Somerset based music festival with super down to earth easiness and a happy-go-lucky crowd of all ages, with an eclectic line-up to boot.

From it's inception, Farmfest had been playing off it's simplistic name and locality (see Farmfest 2011-13). In 2016, we moved the identity away from farm based fun, to a move stylish take on West Country wildlife. Indigenous birds took centre stage as we concentrated on the feeling of freedom they evoke – inline with the festival's atmosphere. The design was influenced by the screen printing process, printed using just 2 colours + black. The cyan and magenta being overlaid to create a 3rd dark blue colour for the palette.
© Copyright 2017 Simon Arnoldi